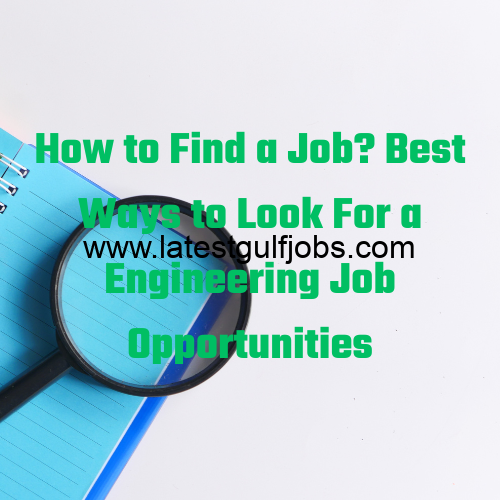 Looking for a job can be a challenging and stressful experience, especially if you are an engineering graduate. While the demand for engineering jobs is high, the competition is tough, and the job market is constantly evolving. In this article, we will explore the best ways to look for engineering job opportunities.
Networking:
Networking is an excellent way to find job opportunities. Talk to your friends, family, and former colleagues to see if they know of any openings or can introduce you to someone in the industry. Attend industry events, job fairs, and conferences to meet people and build connections. You can also join professional associations and organizations related to your field of engineering.
Online Job Boards:
Online job boards are a popular and convenient way to search for job opportunities. There are many job boards specifically dedicated to engineering jobs, such as EngineeringJobs.net, EngineerJobs.com, LatestGulfJobs.com, and CareerBuilder. You can also search for job openings on general job boards like Indeed, Monster, and Linkedin.
Company Websites:
Visit the websites of companies you are interested in working for and look for job openings. Most companies have a "Careers" or "Jobs" section on their website where they post available positions. You can also sign up for job alerts to receive notifications when new jobs are posted.
Recruiting Agencies:
Recruiting agencies can help you find job opportunities that match your skills and experience. These agencies work with employers to fill job openings and can provide you with information about job requirements, company culture, and salary expectations. Some recruiting agencies specialize in engineering jobs, such as Aerotek, Kelly Services, and Randstad.
Social Media:
Social media platforms like LinkedIn and Twitter can also be useful for finding job opportunities. Follow companies you are interested in and engage with their content. You can also join industry-specific groups and communities to connect with like-minded professionals and learn about job openings.
Internships and Co-ops:
Internships and co-ops are excellent ways to gain experience and make connections in the engineering industry. Many companies offer internship and co-op programs for students and recent graduates. These programs provide valuable on-the-job training and can lead to full-time job opportunities.
Career Centers:
Visit your school's career center to access job listings and career resources. Career centers can help you prepare your resume, cover letter, and interview skills. They may also offer career counseling services and connect you with alumni in your field.
Referrals:
Ask your professional network for referrals to job openings. Referrals can be a powerful way to get your foot in the door and increase your chances of being hired. If you know someone who works at a company you are interested in, ask them if they can refer you for a job opening.
In conclusion, finding a job in engineering can be challenging, but with the right approach, you can increase your chances of success. Networking, online job boards, company websites, recruiting agencies, social media, internships and co-ops, career centers, and referrals are all excellent ways to look for engineering job opportunities. Remember to tailor your job search strategy to your skills and experience and stay persistent in your efforts. Good luck!