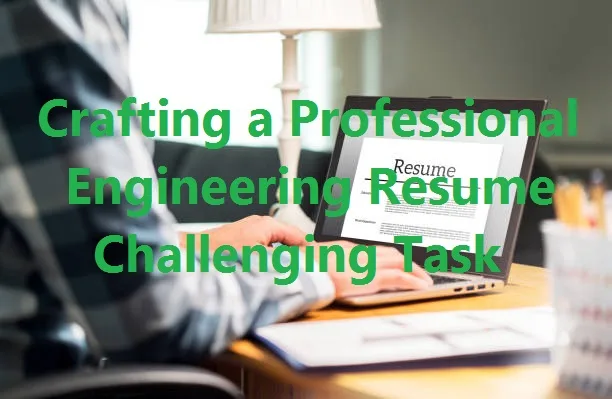 Crafting a professional engineering resume can be a challenging task, but it is an essential step toward landing a great engineering job. The following guide provides tips on how to create a winning engineering resume that highlights your skills, education, and experience.
Start with a strong summary:

A summary statement at the top of your resume is a great way to introduce yourself and highlight your most impressive qualifications. Use this section to describe your engineering expertise and showcase your relevant experience.

Focus on technical skills:

Highlight your technical skills, such as programming languages, CAD software, and other relevant tools that you have experience using. This section should demonstrate your proficiency and experience with the specific tools and technologies required for the job you are applying for.

Emphasize your education:

Education is a critical component of any engineering resume, so be sure to highlight your academic background, including your degree, major, and any relevant coursework. Additionally, if you have earned any certifications or completed any advanced training, be sure to include those as well.

Provide detailed work experience:

Your work experience section should provide detailed information about your past engineering roles, including your responsibilities, accomplishments, and relevant projects. Be sure to use specific examples and metrics to highlight your achievements and demonstrate your impact in previous roles.

Include relevant projects:

If you have completed any relevant engineering projects, including those completed as part of your education or personal projects, be sure to highlight them in your resume. These projects can demonstrate your creativity, innovation, and technical skills, and can set you apart from other candidates.

Use action verbs:

When describing your experience, use action verbs to help bring your accomplishments to life. Words such as "developed," "designed," "implemented," and "tested" are examples of powerful action verbs that can help you demonstrate your skills and experience.

Customize your resume for each job:

Tailor your resume to the specific job you are applying for, highlighting your most relevant skills and experiences. This shows that you have taken the time to carefully read the job posting and understand what the employer is looking for in a candidate.

Showcase your problem-solving skills:

Engineers are known for their problem-solving skills, so be sure to highlight how you have solved complex engineering problems in the past. Use specific examples to demonstrate your analytical skills, critical thinking, and attention to detail.

Highlight your teamwork skills:

While engineering can be a solitary profession, it is also essential to be able to work well with others. Highlight your teamwork skills and your ability to collaborate with others to solve complex problems.

Keep it concise:

While it's important to provide detailed information about your experience and qualifications, be sure to keep your resume concise and easy to read. Use bullet points and short sentences to help break up the content and make it easy for hiring managers to scan.
Crafting a winning engineering resume takes time and effort, but by following these tips, you can create a powerful document that highlights your skills, experience, and qualifications. Remember to customize your resume for each job and use specific examples to demonstrate your expertise, and you'll be on your way to landing your dream engineering job.