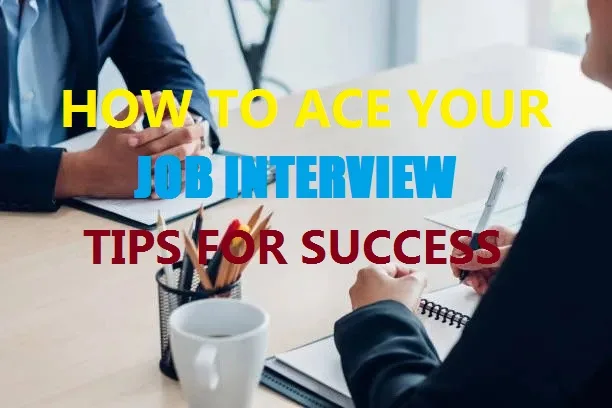 How to Ace Your Job Interview: Tips for Success
Job interviews can be nerve-wracking, but they're also a critical step in the job search process. Your interview is your chance to make a great impression on the hiring manager and showcase your skills and experience. Here are some tips to help you ace your job interview:
Do your research:
Before your interview, do your research on the company and the position you're interviewing for. Review the company's website, read up on their mission and values, and look for recent news articles or press releases about the company. This will help you understand the company's culture and values, and prepare you for any questions the interviewer may ask.
Prepare your answers:
There are certain questions that are commonly asked in job interviews, such as "Tell me about yourself" or "Why do you want to work for this company?" Prepare your answers to these questions in advance, and practice delivering them with confidence. Be sure to highlight your skills and experience that are most relevant to the job.
Dress appropriately:
First impressions are important, and what you wear to your interview can make a big difference. Dress professionally and appropriately for the job and company culture. If you're not sure what to wear, ask the recruiter or hiring manager for guidance.
Arrive early
Plan to arrive at least 10-15 minutes early for your interview. This will give you time to find the location, compose yourself, and fill out any paperwork or forms that may be required. Being punctual shows that you're responsible and respectful of the interviewer's time.
Be confident:
Confidence is key in job interviews. Be sure to maintain eye contact, speak clearly and confidently, and engage with the interviewer. Don't be afraid to ask questions or clarify information if needed.
Follow up after the interview:
After your interview, follow up with a thank-you email or note to the interviewer. This is a great opportunity to reiterate your interest in the position and thank the interviewer for their time. It also shows that you're proactive and professional.
In conclusion, job interviews can be intimidating, but with proper preparation and a positive attitude, you can increase your chances of success. Research the company, prepare your answers, dress appropriately, arrive early, be confident, and follow up after the interview. Good luck!